Explorex Resources shareholders anticipate soaring values as opportunity from this unique, global partnership begins to solidify.
Cobalt is now replacing lithium as the most sought-after, short-supply element needed for EV battery design. That's essential to the long-term interests of Ganfeng, which is on track to become one of the world's largest material and manufacturing entities in the burgeoning lithium-ion battery industry.[1]
To get to the top, Ganfeng is now on a worldwide search for cobalt to feed their future supply requirements. In a unique arrangement detailed in this report, Ganfeng partnered with junior company Explorex Resources as its go-to resource in their global search for new cobalt resources.
With lithium supplies already secure, Ganfeng now faces significant challenges meeting their need for hard-to-find cobalt.  Locking in future supplies of cobalt is essential to their rapidly growing battery division and meeting long-term strategic objectives, but as will be revealed below, that won't be easy.

Due to the rapid growth in demand for electrical vehicles (EVs), demand for cobalt essential in battery design is skyrocketing. Battery makers like Ganfeng cannot simply go out and buy more cobalt…they must lock in new, incremental sources of supply.
That creates a stunning opportunity for investors to move quickly on a little-known exploration specialist, Explorex Resources /
Ganfeng entered an exclusive agreement with Explorex to track down and acquire the most promising cobalt resources in the world. One of those is located here in the United States, which accelerated Explorex's recent listing on America's OTCB.
Later in this report you'll learn why this unique Ganfeng arrangement could soon prove so beneficial to Explorex Resources shareholders. As you will see, it presents an attractive small-risk/big-reward opportunity that could yield big gains out of Explorex's current trading range!
What follows are the background details along with a stunning new announcement of a significant cobalt formation Explorex recently locked up in central Nevada.
Details are unfolding now.
In a 2017 press release, long overlooked by energy investors, Ganfeng agreed to invest heavily in Explorex so the company could embark on a global search to secure new cobalt resources.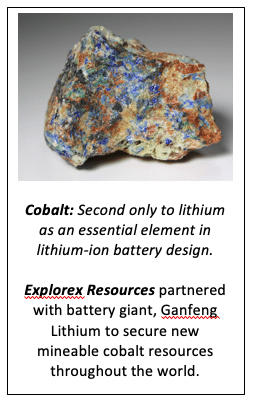 News of search results is already flowing; substantive announcements are being made. Later in this article you will be provided some resource links that you can follow as you begin your due diligence. At the top of the list (of course) is the Explorex Resources company website.
While on site, be sure to sign up for company news releases; you'll be among the first in line to learn details and progress of the company's moves in the historically significant cobalt resource now confirmed near the surface in Pershing County, Nevada.
Ganfeng wants this Nevada cobalt…and they're going after it today as aggressively as they did lithium in the past.
You are likely already aware that over the last few years, lithium investors made fortunes in the global rush to find and secure lithium supplies. Chinese companies like Ganfeng Lithium fueled that charge securing all the lithium resources that could be found. Economic Times reports that Chinese entities now control about half of world lithium production and 60% of global battery production.[2] Giants like Ganfeng are well positioned to dominate world markets and their strategies for achieving that goal remain unchanged. Dominate key material resources. They got the lithium, now they need the cobalt. And a current target: Pershing County, Nevada.
Explorex Resources / can put you in front of this emerging cobalt boom. And the profits can be enormous.
Looking back at lithium, investors in off-radar lithium exploration companies made fortunes as the search for new supplies skyrocketed. Shares in many junior lithium exploration companies soared well into triple digits…all inside 12 months!
Lithium juniors soared on global demand and a number of little-known lithium exploration companies posted breathtaking gains:[3]
Ticker        1-Year
Pilbara Minerals           ASX:PLS     +1,174%
Galaxy Resources        ASX:GXY    +763%
Neometals                     ASX:NMT  +900%
Nemaska Lithium         CVE:NMX  +429%
Altura Mining               ASX:AJM    +950%
Lithium X Energy          CVE:LIX      +287%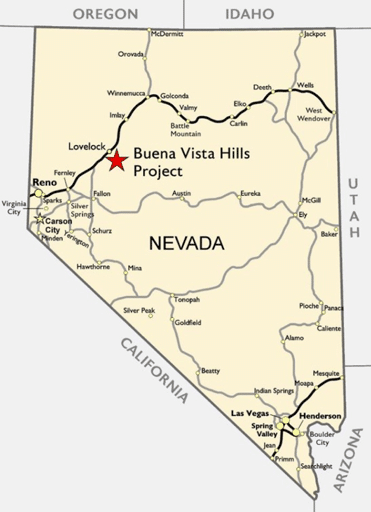 While not every lithium exploration company performed like these, gains for 19 junior lithium juniors that got most attention averaged 274% growth in a single year! It was a home run winners and losers combined!
Today, lithium markets have stabilized, but cobalt is an entirely new development.
As a global rush to electric-powered vehicles accelerates, reliable, politically stable cobalt supplies could propel enormous upside for cobalt exploration stocks. Shareholders holding early positions stand to benefit most as global demand for cobalt builds.
Ganfeng secures the deal in Nevada.
Ganfeng entered its partnership with Explorex with a 100% "off-take" agreement that gives Ganfeng first right to every pound of in situ cobalt that Explorex discovers.
Explorex benefits in that Ganfeng provides deep financial resources necessary to fully exploit the economic potential of the new cobalt resource.
It's a win-win for both! Ganfeng gets the cobalt it needs and Explorex / reaps the gains in shareholder value!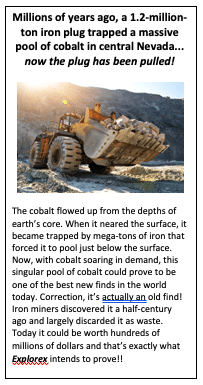 This unique arrangement provides a clear growth path for Explorex.  The company faces little of the usual risks that comes with bringing mineral resources to production. Explorex's core mission is seek-and-acquire only… and their new Nevada acquisition appears to be a world-class find!
Well known, but long forgotten.
Years ago, geologists uncovered this significant cobalt prospect in Pershing County, Nevada geologically buried around a massive plug of iron ore. The iron ore was mined years ago leaving an open pit exposing multiple cobalt showings.
Many in geological circles knew of the deposit, but did nothing about it. Explorex / did and is now first to pursue its soaring 21st century value!
On March 4 this year the company announced that it secured an option agreement for 100% ownership of the mining claims on this site.
The full extent of this cobalt formation has yet to be determined, but geologists already have good cause to believe that whatever is in the ground is enormous in scale…and value! Those beliefs are rooted in historical mining records dating back over half a century.
Through 40s and 60s, a total of 1.2 million tons of iron was mined from the surface at the site. During that mining process, copious quantities of cobalt began appearing on the edges of the iron ore deposit, leading geologists to surmise that millions of years in the past, a massive upflow of cobalt rose toward the surface.
In that rise, the cobalt became trapped by a massive iron deposit. As the upflow progressed, that iron formed a "plug" that forced a highly enriched cobalt body to pool all around.
There it remains to be mined today!
Fast forward to present day…
At the time of this discovery a half century ago, cobalt was an inconsequential element having little economic value, particularly in massive production. Barely a niche market at the time, few suspected at the time that it would grow to become one of the most strategically important materials for 21st century energy storage technology!
As the iron ore was mined, the cobalt revealed itself, but few of those removing the iron took an interest. What cobalt was scraped away to access the iron ended up in the mine's waste dump sites.
Explorex / geologists took strong interest, not just in what lay in the waste dump, but what lay below and around the iron mine's exposed surfaces. It was grab samples and outcrops of cobalt along the mine wall facings that hinted at the massive resource in store.
Further evidence pointing to significant cobalt was readily found beginning with an analysis of the waste dump. More evidence came to light following results from a 2008 drill hole that geologists drilled 90 feet into and below the dump site.
As results poured in, geologists concluded this site holds enormous resource potential. They mapped the nature and distribution of the cobalt deposit, dividing it into two distinct, significant cobalt-bearing zones.
"A significant amount of Cobalt mineralization is exposed in the open pit walls and within the waste dumps, presenting two distinct prime exploration target styles."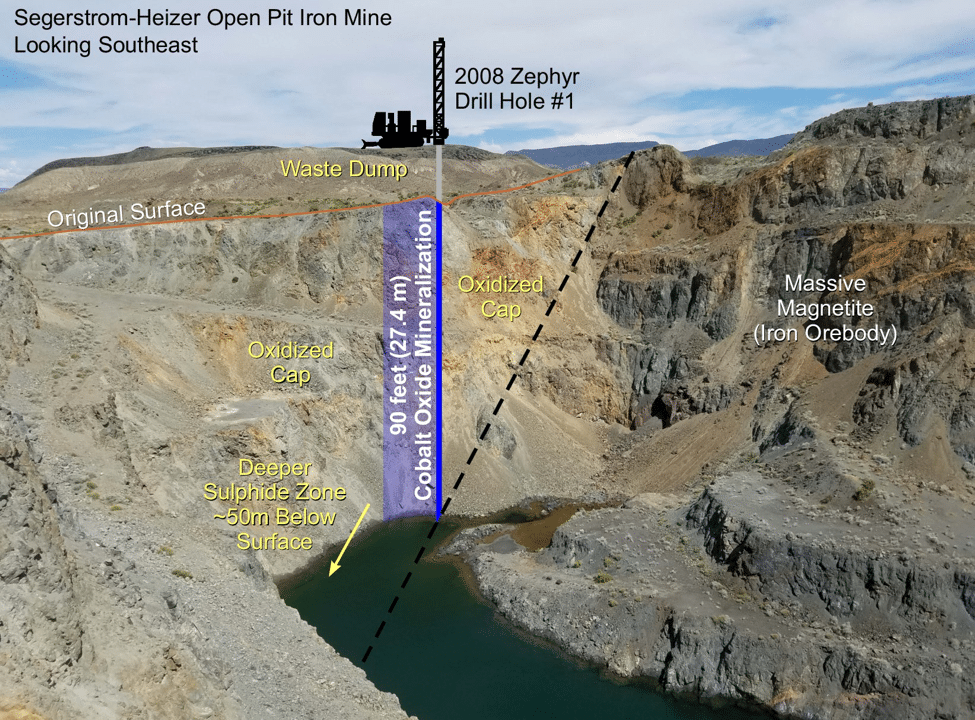 The above picture of the Nevada mine site reveals the open pit following removal of 1.2 million tons of iron from the 40s through the 60s. It divides the cobalt bearing regions into two zones demarked by the dashed line. Again, it's important to note that cobalt discoveries a half-century ago were of little economic interest at the time. Much of it was abandoned in a waste dump on the surface. The remaining cobalt-bearing formations were left undisturbed at the edges of the economically recoverable iron ore.
The image highlights the extensive 'At Surface' cobalt oxide target that shows strongly along the face of the pit wall to the left of the dashed line that demarcates contact with the magnetite iron orebody. In 2008, samples were taken from a 90' drill hole located over 200' southeast of the wall that doubly confirmed the continuity and magnitude of the cobalt oxide mineralization.
Geologists made special note of this zone in their report: "[T]he significant cobalt mineralization reported in the Zephyr Hole combined with the cobalt mineralization observed in grab samples quite distant from the Zephyr Hole indicates the potential for a large at surface cobalt mineralized target area along the extent of the magnetite body and SH Fault." [Emphasis author's]
As a bonus find, deeper in the formation below the frame of the photo geologists found strong evidence of high-grade cobalt iron sulphide. Samples from this zone were collected from the waste dump and assayed up to 1.2% cobalt, a high-grade assay that points to an immense untapped potential just below the surface.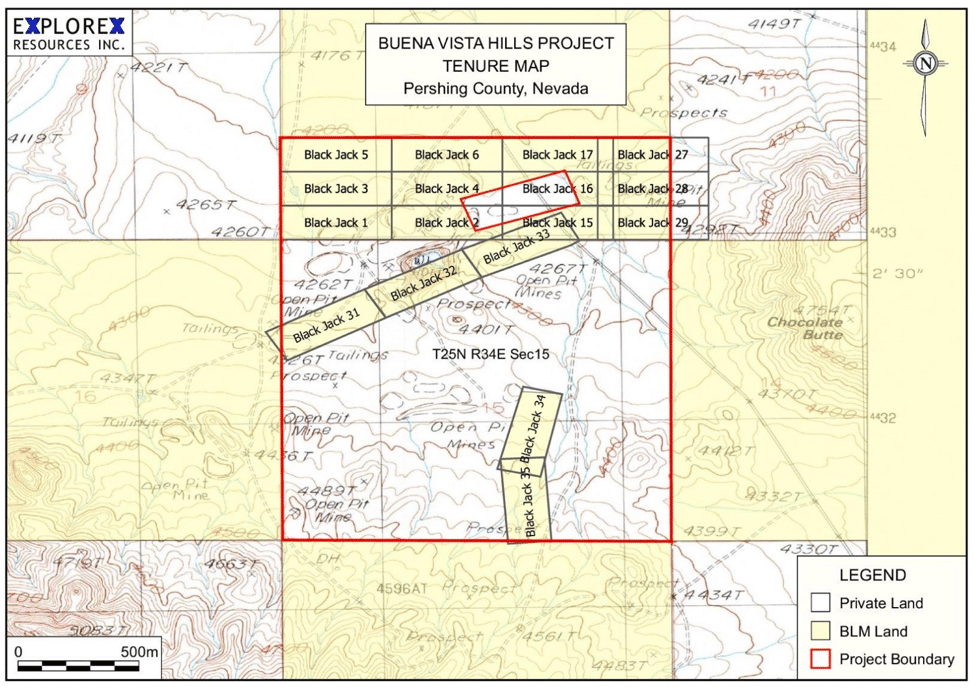 More detail regarding the extent of this finding and the full geologist's report can be found on the Explorex company website, link provided below. This should be an early starting point for further research into the investment potential in Explorex.
Here's where this departs from the routine…and why the Ganfeng relationship provides an enormous benefit to Explorex / shareholders.
The Ganfeng partnership greatly reduces shareholder risk exposure. Ganfeng has committed $1.0 million to Explorex for find and secure cobalt resources. The Pershing County, Nevada location has now become a top priority for development.
What's more, it's not a loan. Ganfeng is so confident in Explorex and this prospect that it paid this sum to secure first purchase rights on all the future cobalt produced at this site!
It's an extraordinary agreement, one that takes two substantial risk factors off the shoulders of Explorex shareholders.
First, there's little question that a substantial body of cobalt can be found at this site. Ganfeng recognized that early on, which is why it moved aggressively to secure mining rights.
Second, and thanks to that million-dollar commitment, Explorex shareholders need not to worry that the company's exploration efforts get cut short due to lack of funds. That lack of funds kills more promising juniors than you may imagine. Juniors are typically forced to commit substantial capital expenditures to prove up the resource potential at their mine site. If they fail to raise (CAPEX) the company can go under. Explorex has mitigated that risk exposure through its Ganfeng agreement.  Explorex has their expenses covered leaving just one job ahead, determine the size and location of the cobalt that remains to be mined.
The value of the cobalt resource will ultimately determine the share value of Explorex shares. The only question to be answered is, how big will that resource prove to be.
Explorex is pursuing that answer right now. Progress to that goal should move swiftly. The bulk of the currently known cobalt resource at this location lies at or near the surface. Easy targets. That means that news of cobalt resource announcements should come much more quickly when compared to a typical junior resource company. To get in front of this, you'll have to act fast.
As of this report, Explorex / shares continue to trade in a penny-stock range. Once cobalt resources begin to be reported, share prices could leap from current levels, just as they did for similarly positioned lithium juniors. Of course there's no guarantee that such gains will come, but given the depth of experience that Ganfeng has gained from its global lithium business, their commitment to this one cobalt project strongly suggests very positive potential!
What to do now…
Start looking into this without delay. Chinese companies like Ganfeng are moving aggressively to secure new global supplies of cobalt. Fully 98% of all cobalt needed by Chinese companies is imported. Three-fifths of that originates from the Congo, a point not covered in this report, but of significant importance to global cobalt markets. Simply put, for China to achieve its strategic objectives in battery technologies, new geopolitically stable sources of cobalt must be brought into production![4]
Thus marks the genesis of a U.S. cobalt mining industry!
For a future driven by electrically powered vehicles, more cobalt must be found and produced. The scale of this is simply unprecedented.
Bloomberg reports:
"Our latest forecast shows sales of electric vehicles (EVs) increasing from a record 1.1 million worldwide in 2017, to 11 million in 2025 and then surging to 30 million in 2030 as they become cheaper to make than internal combustion engine (ICE) cars. China will lead this transition, with sales there accounting for almost 50% of the global EV market in 2025."[5] [emphasis author's]
Bottom line: the Chinese are up against the wall! With demand for electric power vehicles soaring worldwide Chinese manufacturers like Ganfeng face intense pressure to move swiftly on new cobalt opportunities.
That creates an enormous opportunity for investors in companies like Explorex / and its Nevada cobalt prospect.
But whatever that opportunity is today, it may be fleeting. The lithium experience taught investors how to play early stages of such rapid growth trends. For cobalt, the trend seems clear. The lithium boom triggered massive, triple-digit gains in lithium juniors and experienced investors…it's reasonable to expect that the same will be true in cobalt…perhaps even faster.
Time to move…
Don't sit on this. It's exceedingly rare that the market hands you clear opportunities to grow your investments by triple digits.
Get started right now with your due diligence. As you begin you'll likely note that the cobalt boom has already gained some traction. This time last year, Forbes reported:
"Global prices of cobalt have tripled in the past year" because cobalt is "a critical element of Lithium-ion batteries."[6]
"Fueling future generations of electric vehicles is making some mining entrepreneurs rich as demand grows for critical metals, such as lithium and cobalt." 
At the bottom of this report is a link that connects you to the complete Forbes article, but before the full read, here's an excerpt that points clearly to where the cobalt market is headed.
"Despite their name, most lithium-ion batteries also require cobalt and graphite to do their job of retaining and discharging electricity, and while lithium and graphite are plentiful, it is cobalt that has manufacturers of battery-based products worried."
"Carmakers, such as Germany's BMW, and electronic gadget makers, such as Apple, are scouring the world for supplies of cobalt, a rare metal that has tripled in price over the past year to $80,000 a tonne, with 60 percent of global supply coming from the bloody Democratic Republic of Congo. [emphasis author's]
Put all of this in context. Here are 10 key facts to keep in mind as you contemplate a position in Explorex Resources (OTC: EXPXF / CSE: EX).
Explorex Resources has partnered with one of largest power storage corporations in the world, Ganfeng Lithium, to find and open new sources of cobalt to feed Ganfengs long-term strategic supply requirements in cobalt.
Explorex's first big project under this partnership focuses on a long-forgotten, but potentially prolific cobalt site in central Nevada where past iron mining operations already exposed significant cobalt showings.
Evidence abounds that a significant concentration of cobalt exists at or near surface at this site, which can greatly accelerate resource calculations and ultimate recovery.
Ganfeng originally pledged $1,000,000 to begin cobalt exploration activities, with an initial contribution of $500,000 upfront.
Explorex is fully funded by Ganfeng to carry forward and complete cobalt resource discovery on site. However, Ganfeng does not own the resource, it only holds an option for first purchase of all cobalt produced on site at prevailing market prices.
The ultimate value of all in situ cobalt resources fully accrue to Explorex It all goes to shareholder value, of which Ganfeng is limited to about a 15% shareholder position.
Nevada is not the end game. Explorex has been tasked by Ganfeng to aggressively seek and acquire promising cobalt resources anywhere in the world. Shareholder value can continue to grow as more and more resources are pulled under the Explorex ownership umbrella!
Bottom Line:
With global demand for cobalt soaring…and with no immediate potential for supply growth from existing resources…new sources of cobalt outside of current supply channels must be brought into production.
This trend has already gained solid traction. Global cobalt prices have soared over the last few years and no significant new supply lines appear imminent.
Move quickly, as this opportunity could vanish in a heartbeat.
Global industries led by companies like Ganfeng Lithium are moving aggressively to lock in future supplies of cobalt. As far as the author of this report is aware, no other company on the planet has landed a "find and explore" deal like Ganfeng handed to Explorex Resources.
It's the sweetest sweetheart deal you might ever find in any resource investment opportunity. To begin your due diligence, here are a few links that might help you evaluate the opportunity and fit to your investment goals.
For more information on Explorex Resources (OTC: EXPXF / CSE: EX), its assets and recent news, visit:
https://explorex.ca
While on site, be sure to sign up for future news releases sent directly to your email inbox.

---
Explorex Resources Inc.
Suite 488 – 625 Howe Street

Vancouver,
British Columbia

Canada, V6C 2T6
Phone: 604.681.0221

Email: info@explorex.ca
[1] http://www.ganfengbattery.com/about_en.html#home
[2] https://auto.economictimes.indiatimes.com/news/auto-components/in-the-new-lithium-great-game-germany-edges-out-china-in-bolivia/67736127
[3] https://www.nanalyze.com/2016/04/19-lithium-junior-mining-stocks/
[4] https://www.reportlinker.com/p04873771/Global-and-China-Cobalt-Industry-Report.html?utm_source=PRN
[5] https://about.bnef.com/electric-vehicle-outlook/
[6] http://www.forbesindia.com/article/cross-border/global-prices-of-cobalt-have-tripled-in-the-past-year.-heres-why/49827/1
IMPORTANT NOTICE AND DISCLAIMER PAID ADVERTISEMENT. This communication is a paid advertisement. Vanadium Report and their owners, managers, employees, and assigns (collectively "the Publisher") is often paid by one or more of the profiled companies or a third party to disseminate these types of communications. In this case, the Publisher has been paid by Explorex Resources.