It's baked in and coming soon. That's why Jim Cramer of Mad Money TV fame says he's done with oil investing. It's time to get real; oil markets are due to plunge as electric vehicle (EV) sales skyrocket worldwide. Tesla alone is now projected to $1 trillion this decade.
Within two decades, two-thirds of the vehicles on the planet could be electric. The resulting changes in money flow will be enormous. An investor buying the right stocks now could soon make a fortune on soaring new deliveries in electric vehicles.
Wall Street sees this coming. Tesla stock nearly doubled over the last few months as investors sought growth opportunity. But you don't have to take big risks and start in the middle.
Here's a ground floor move in EV technology that could return massive profits over the coming years. And you can get started right now for mere pennies.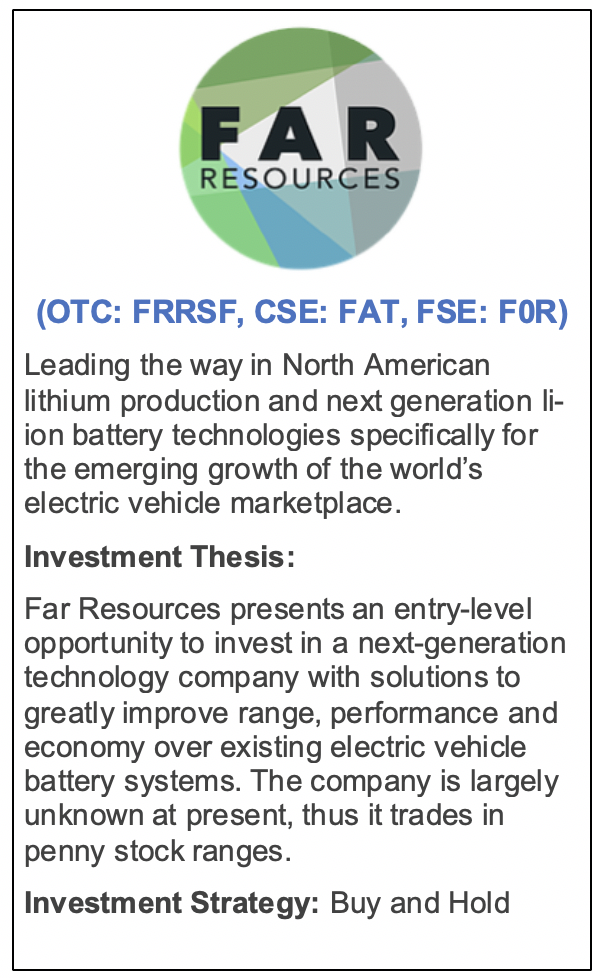 A Special Report for Wealth-Seeking Investors:
Is there any doubt in your mind that electric vehicles will soon dominate world vehicle markets? If so, please put those doubts to rest. You stand at the threshold of what is likely to become the biggest market transition in your lifetime, the global rise of electrically powered vehicles. Now is the time to consider your move! You could literally grow rich from the right investments made in advance of this inevitable trend.
To make the point, consider this one fact alone:
Every major automotive manufacturer in the world today is gearing up for the near certain market collapse in gasoline and diesel-powered vehicles. Billions are being spent to transition manufacturing to produce electric vehicles. It's a matter of survival for every automotive giant. Later in this report you'll see the stunning statistics. Within a generation, electric vehicles are projected to dominate all new-car showrooms as the internal combustion engine goes the way of the stick shift…a relic of the past. Manufacturers must gear up for EV or they will die clinging to old ways. It's just that simple.
When a market as massive as the automotive industry (75 million new vehicles projected for 2020[1]) makes a seismic transition of this magnitude…staggering wealth can be accumulated by the individual investor.
But keep in mind...the big market potential does not present itself with any existing vehicle manufacturer. Advice: Don't buy auto stocks if you plan to profit from this boom! Look for the companies that can support the manufacturers' transition to EVs.
Here's one such company…
Far Resources (OTC: FRRSF, CSE:FAT) is the only company in North America that has vertically integrated its massive hard rock lithium resources with a next-generation electric vehicle battery technology company.
Here's why this can be vitally important to a domestic auto manufacturer like Tesla (not to mention Ford, GM and Chrysler).
Existing manufacturers are moving to EV production only to protect their present global market share. You can expect little to no significant growth in their shareholder value as they transition from internal combustion engine design to all-electric.
In fact, total vehicle sales worldwide is actually declining from its peak in 2018! For growth investing, automobiles are not the place to be. Same can be said for oil investing, just as Jim Cramer announced recently on his broadcast, Mad Money.
Here's what Cramer and other forward-thinking investors are seeing. EVs are clearly the future and with such enormous change on the horizon everyone expects stunning profits to flow from it. The question is, where to invest?
Your best choice is not likely to be vehicle manufacturers! America's only EV manufacturer, Tesla (TSLA), is way out over its skis! Investors have propelled its stock to stratospheric heights based on future, not current sales. That comes on top of a recent flurry of buying to cover TSLAs record short positions![2] (TSLA is one of the most dangerous stocks in the sector. Cautious investors, short or long, should steer clear for now!)
If not in vehicle manufacturers, where should you invest? In the coming years. Massive growth in the lithium battery sector should drive enormous gains for a well-positioned lithium supply and technology company.
Lithium is the fuel that will power the coming generations of electric vehicles. Every vehicle manufacturer in the world will be captive to the lithium supply lines and the batteries produced from them. Far Resources holds enormous resources in hard rock lithium at precisely the time that domestic auto manufacturers will depend upon it for their battery needs.
That's not all.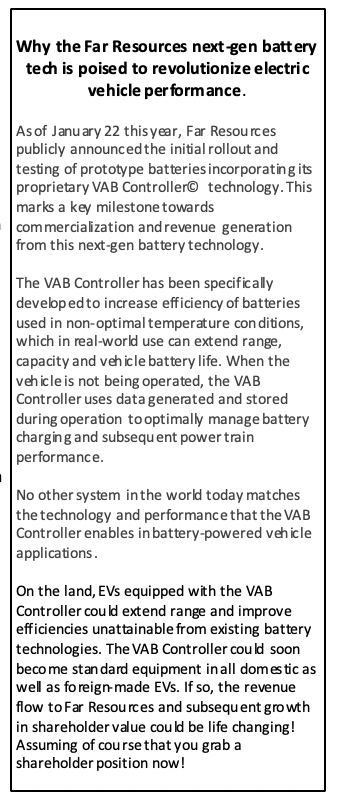 As it stands today, China has the iron grip on nearly three-quarters of world lithium supplies and is approaching a near monopoly on the batteries needed for electric vehicle power systems.
This poses a grave threat to domestic EV production. China's electric vehicle industry is skyrocketing. Next year, China is projected to produce over two-times more electric vehicles than produced in the United States. In fact, Chinese EV production is projected to exceed all that produced in the U.S., Europe and Japan combined![3]
For western auto manufacturers to compete in the years ahead, a dependable, stable supply of lithium will be essential for preserving and growing market share as the world shifts to EV transportation.
And that's just the start of it.
The end game in the lithium supply chain is batteries and Chinese control of global lithium supplies puts them well ahead of others in the production of lithium batteries.
Later in this article you'll learn what specific steps Chinese companies have made to ensure uninterrupted lithium supplies for their rapidly growing battery manufacturing operations.
This is where Far Resources stands to explode in value as news of its unique, vertically integrated business model becomes widely known. The company has linked its massive hard rock lithium resource with proprietary lithium battery technologies that could fuel the next generation of more efficient, longer running EVs…those that are made in America!
Investors who move on Far Resources today could not only profit from soaring demand for domestic lithium supplies, they could profit even more from the implementation of Far Resource battery technologies designed to increase the efficiency of millions of electric vehicles, past, present, and those that are on the drawing boards for future vehicle production.
Experts familiar with Far Resource's next-gen battery technologies have already seen it in real world use and testing. The initial product, the VAB Controller© , pioneered by the company's newly signed partners, BattMat Technologies, Inc. and Electric Blue Power, LLC (EBP) is now up and running in multiple test vehicles.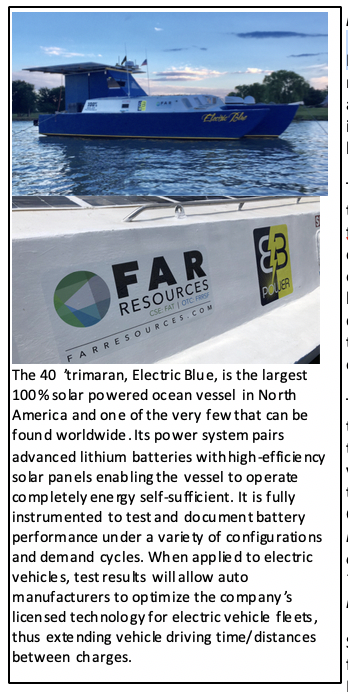 Fully developed tech!
Far Resources, Battmat, and Electric Blue recently announced the successful completion of a partnership to prove their advanced lithium-ion battery techs can do what many thought to be impossible.
To test and prove certain of their technologies, the company deploys these proprietary technologies under the most demanding circumstances….a ship at sea energized exclusively by onboard solar panels. The results have been tremendous. Far Resources demonstrated the capability for this ship to travel thousands of miles across the planet's oceans and never needing fuel.
The technologies locked in by Far Resources through this partnership of resources and technology could be key to the future of electric vehicles. The company reports that the ocean testing, and current on land testing of its VAB Controller©, clearly demonstrates that these new battery related technologies extend range, capacity, and life of battery power systems. These developments could prove to be huge for land-based electric vehicle markets.
Since range and power are a driving force for future EV sales, the licensing revenue to Far Resources for its battery tech is likely to be stunning.
Perhaps more important, Far Resource will offer U.S. auto manufacturers a ready and dependable North American resource for vitally needed lithium along with the next generation of lithium battery technologies.
It could be a life-saver for the domestic auto industry.
Global competition for supplies and performance improving technology should be fierce. New, dependable (non-Chinese!) supplies should become a strategic necessity for domestic automakers.
It presents a right-place, right-time opportunity for moving into the EV market boom. Best of all, Far Resources is just getting started. Their stock is currently trading virtually unknown and mere pennies to its longer-term potential. Take a look at this now! Get started by going straight to the company website and signing on for their email alerts.
Another suggestion: Go to your broker and put Far Resources (OTC: FRSSF, CSE: FAT) on your watch list. You might even consider getting some skin in the game. In today's trading range a substantial position in the company's stock can be secured for just a few hundred dollars.
Before you make any investment decision, regardless of size, be sure to do your own due diligence. Investing in small companies like FRSSF comes with substantial risk. Don't invest any more than you are willing to lose in total. At the same time, keep in mind that the very risk you evaluate sets the stage for why you invest in the first place!
Far Resources presents a massive ground floor opportunity for growing your wealth…one not to be missed! The soaring market for electric vehicles makes it clear. EV sales and the resulting demand for lithium and advanced battery technology could propel Far Resources to enormous gains for investors who get started today. This is a true ground floor opportunity that should not be ignored.
In April this year, Forbes reported:
"The past year has been marked by a flurry of announcements from major auto makers about their plans for the EV [electric vehicle] market. Should these plans fructify, it represents a mouthwatering potential of 400 models and estimated global sales of 25 million by 2025.
"Consider this. Porsche aims at making 50% of its cars electric by 2023. JLR has announced it will shift entirely towards electric and hybrid vehicles by 2020. General Motors, Toyota and Volvo have all declared a target of 1 million in EV sales by 2025. By 2030, Aston Martin expects that EVs will account for 25% of its sales, with the rest of its line up comprising hybrids. By 2025, BMW has stated it will offer 25 electrified vehicles, of which 12 will be fully electric. The Renault Nissan & Mitsubishi alliance intends to offer 12 new EVs by 2022."[1]
The fact is, every major auto manufacturer in the world today is gearing up now for electric vehicle production. Two things seem certain from this…
The world will need vastly more lithium than is being produced now.
The batteries used in electric vehicles must be able to go farther and stronger than ever before.
Far Resources (OTC: FRRSF / CSE: FAT) has positioned itself to profit from both!
Within a decade, electric vehicles are projected to dominate new car production. Soon following, internal combustion engines will be outlawed to over half the world's population! By 2040, internal combustion engines will be illegal in many parts of the world.
Current world lithium supply lines cannot meet soaring demand projections. New sources must be brought into production fast. Without those new supplies, future EV automotive production growth would grind to a halt.
Battery efficiency and effectiveness will be key to fully utilizing available lithium resources.
Better batteries make better use of global lithium supplies. Any improvement in battery effectiveness allows car manufacturers to incrementally reduce vehicle weight, a key factor for extending range and time between charges.
Of course, better battery design (and the revenues that can flow from it) is but a fractional component of Far Resources' revenue growth potential.
The bulk of the company's potential lies underground in massive hard rock lithium deposits situated in Western Canada. With China moving hard to dominate world lithium resources, unlocking these untapped Canadian lithium resources is fast becoming a strategic necessity particularly to U.S. and western auto manufacturing.
It's all building to be among the biggest wealth-building opportunities you'll see in your lifetime.
Financial Times and other experts report that auto manufacturers are forecasting a looming global lithium supply crisis.
They warn that global lithium deliveries must grow 17-times current production levels to meet pending world demand![2]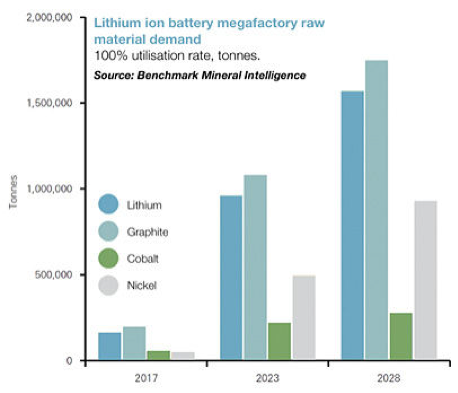 Focus on this one key point. The world must find and produce more lithium. Electric vehicles are the future. Governments are requiring it. Consumers are demanding it. It's already upon us and it cannot be stopped!
Lithium supply pipelines are already under strain and current supplies sources cannot scale up to needed output. For the world to come, lithium remains key to Far Resources' growth potential and shareholder value because above all else…new lithium resources will be essential to the world's electric vehicle future.
There's simply not enough being produced today!
Auto manufacturers cannot be caught napping; they must plan and prepare for new lithium production now, which is why priority is placed on developing Canadian resources first.
Far Resources (OTC: FRRSF / CSE: FAT) now owns resources that could make it a key player in western Canadian lithium production.
Over the last few years, Far Resources has been quietly accumulating mining claims over some of Manitoba's richest lithium hard rock resources. It now holds 100% rights and option agreements on 16.6 square kilometers of historically known lithium ore.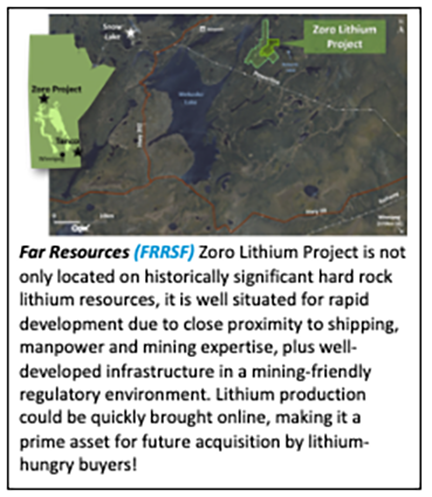 Recent drilling activity has produced exceptional assay results. In fact, newly announced assays from recent activity are comparable to Australia's Greenbush region, a region that has recently been reported to be producing 40% of the world's lithium supplies.[3]
Could Canada be next? Think about the potential in Far Resources…it could be home to one of the world's future leading lithium production sites!
The key to profiting in Far Resources…don't wait to make your decision.
Today, Far Resources (OTC: FRRSF / CSE: FAT) trades on under a dime. That's typical of little-known junior resource companies, but in no way indicative of Far Resources' longer-term potential and its payout potential to shareholders who move in now.
The company is moving fast to build shareholder value. As it zeroes in on the resource potential of its lithium deposit, it is also moving aggressively to enhance shareholder value through its partnership with BattMat Technologies.
Big money is already moving in.
The Battmat partnership came shortly after the company's February announcement of securing $12 million in equity financing from New York-based Alumina Partners.[4] The financial resources are now on hand to ramp up significant production. (For ground-floor investing, now could be an ideal time to act.)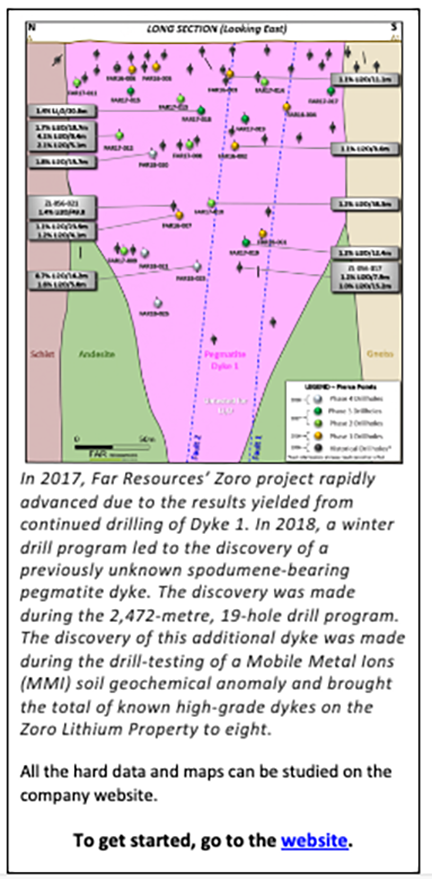 And there appears to be plenty of lithium for the company to produce!
It's already well known that the Far Resources sits on historically significant lithium deposits. Data from as far back as 1956 show lithium's abundance, but there was no market for lithium in the 50s.
It wasn't until recently that Far Resources recognized the present-day potential and moved to lock in claims. It didn't take long for the updated numbers to confirm the potential.
Chip samples taken during early exploration returned stunning results ranging from 1.35% to 6.35% lithium dioxide (Li-2O)
Subsequent drilling conducted primarily from 2017 to present day further confirmed the potential for substantial Li-2O deposits.
The company has already made big strides toward reporting its inferred resource…and is aggressively pursuing the regulatory reporting requirements that allow them to report their lithium reserves.
As this process moves forward, you can expect FRRSF shares to move quickly out of its current trading range.
If you are intrigued by this potential, start your due diligence without delay. Everything about this opportunity could go fast track at any time.
To begin, you can expect the FRRSF share price to climb rapidly on future announcements of Li-2O findings. In fact, the share price at this juncture will be driven entirely by its exploration results and announcements!
To make sure you get those announcements in time to act, get your email address onto the company's email list right now!
Announcements made via email could provide you with valuable information well ahead of the crowd, setting you up for substantial quick profits.
Lithium buyers, particularly in the United States, are watching carefully to see which companies prove up their reserves early. Was proven, Canadian lithium assets like Far Resources will likely be snapped up at huge premiums over today's ground floor prices!
You can count on major players whose future depend on stable lithium supplies stepping in as eager bidders! They'll likely pay whatever it takes to secure years of stable, unrestricted lithium supplies.
For them it could be a matter of survival!
Nearly 20% (18 million) of all world vehicles are produced in North America.
Within a half-dozen years, four to five million of those vehicles will be electric, yet today, none of the lithium needed to power those vehicles is produced here!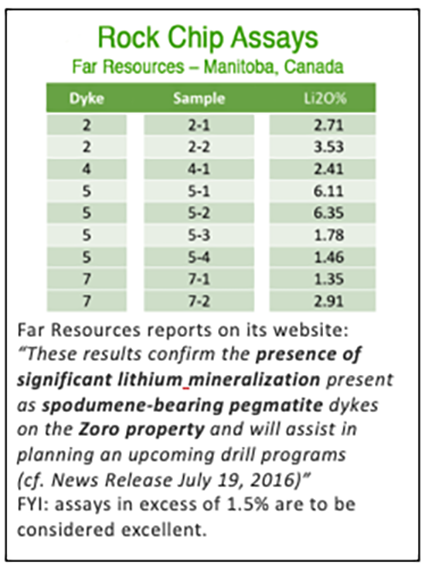 Automakers are entirely dependent on foreign lithium supplies, largely controlled by the Chinese. This creates enormous incentive for tapping into abundant Manitoba, Canada lithium resources…and they need to get started now!
Western Canada is an ideal starting point. It hosts geologically similar "hard rock" lithium deposits that has propelled Australia to become the world leader in lithium production.
In fact, Australia now accounts for 40% of world lithium production. With similar hard rock deposits, Western Canada could quickly rise to challenge that. As world demand for lithium continues to soar, lithium buyers should be lining up to secure their access to Canadian production.
The enormity of this opportunity should not be underestimated.
With its stock price today at under 10¢ share, Far Resources (OTC: FRRSF / CSE: FAT)  may be trading at a mere fraction of its future worth. This is a company that could soar ten- to twenty-times out of its current trading range and still have room to grow!
There seems to be no question that accelerating demand will consume all new lithium production brought online for the foreseeable future. And as discussed earlier in this report, current lithium producers are unlikely meet new global demand!
China certainly won't pour its lithium into world markets. Australia is largely controlled by the Chinese, so it can't be expected to ramp up for the world. South American brine resources take at least 18 months to ramp up and more South American governments are tightly limiting the output of their brine resources. For good reason…
Please make note of this…
It is not only key to understanding why South American brine fields will not solve the world's lithium supply crisis…it is key to understanding why Canadian resources could be so essential to future lithium supply needs!
Even though South America, Chile in particular, holds the world's largest deposits of lithium…that lithium cannot be extracted more than it is already.
To begin with, ramping up production is a slow process.
Analyst David Begleiter, of Deutsche Bank North America, reports that,
"…ramping up production [in brine ponds] might be slow because it takes up to 18 months for water to evaporate in brine ponds allowing the lithium to form."[5]
But here's the real problem.
Even if the brine could be dried overnight, the water to lift it to surface is fast disappearing!
While South America is touted for its enormous lithium resources, it takes massive quantities of water to extract that lithium from ground resources…and the aquifers that supply that water are drying up fast!
A 50-year drought could shut down all new lithium production in South America.
Salar de Atacama is the largest salt flat in Chile, home of the purest lithium deposits on the planet. In your research you will likely learn that the lithium deposits in this location could feed most if not all future growth in lithium demand. Trouble is, all that extra lithium cannot be mined!
Salar de Atacama is one of the driest places on the planet, now in its 50th year of what appears to be a permanent drought. Lithium production can't be ramped up significantly because it consumes such massive quantities of water. The situation has become so dire that the Chilean government has clamped down on further unrestricted water use!
"In a press release published August 23, 2018, Chile's General Directorate of Water (DGA) announced they will limit water use rights in the southern region of the Atacama desert because the current number of permits are above sustainable levels.
"The DGA plans on creating a water reservoir for human consumption to ensure that water remains available in the Salar de Atacama where lithium giants, SQM and Albemarle operate."[6] [emphasis added]
So, there you have it.
China dominates lithium supplies in its homeland and Australia. They're not likely to ship lithium to competitors! And you won't get more lithium out of South America due to lack of water and rigid government restrictions.
This exposes a huge problem in meeting future lithium supply demand!
These three locations, China, Australia and South America already account for over 95% of the world's current supply of lithium!
With forecasts calling for a 17-fold increase in lithium production, where's all that new lithium going to come from?
Answer: North America!
Over the next few years, we are all very likely to see a massive boom in North American lithium production. More specifically, thanks to how quickly mining operations can be brought to speed…that massive boom is likely to focus first on western Canada and the lithium rich deposits in Manitoba.
For western automakers focused on the future in electric vehicles, this could be a priority for survival! Elon Musk sees it coming…
Tesla is making North American lithium purchases a "priority" for the future.
To reach a near-term objective for producing 500,000 Tesla vehicles annually, the company will have to secure 50 million pounds of lithium carbonate. Musk knows he is unlikely to get that from the existing lithium production pipeline. This is why he has emphasized the vital necessity and promise to source North American lithium.[7]
One thing seems certain. If you wish to profit in lithium, then you could make a fortune by moving on Canadian resource companies without delay!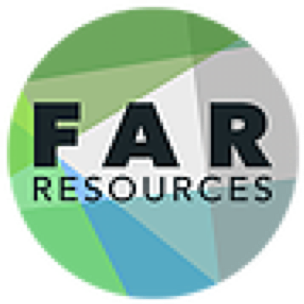 That's why we focus your attention on Far Resources (OTC: FRRSF / CSE: FAT). We're not saying that it is the only resource junior that can skyrocket on Canadian lithium mining…but it is one that appears ideally situated to hit the top!
My summary, and a prediction…
If you haven't already, take these pending lithium market forecasts seriously. It will likely produce some of the fastest growing, most lucrative stock buys you can make in your lifetime.
The explosive world demand for stable (unhindered by government and weather) new lithium supplies will surely drive a massive lithium production boom into western Canada.
You can get ahead of this and perhaps make some serious profits by getting started immediately. As you begin your research and due diligence…keep these seven facts in mind:
Global demand for lithium is on track to grow 17-fold into the next decade.
There are four regions in the world where lithium can be presently mined in useful quantities; Australia, South America, China and North America.
Of these four, North America is the only region not currently dominated by Chinese interests or constrained by environmental limitations and government regulations.
With North America lithium deposits, Canadian resources can be brought to production in as little as two years. That's significantly faster than the ten years it can take to get U.S. lithium mines up and running.
One of the most promising lithium deposits in Canada lies in the western province of Manitoba and Far Resources (OTC: FRRSF / CSE: FAT) holds 16.6 square kilometers on top of those resources!
Far Resources' recently announced partnership with Battmat Technologies certainly integrates the company to the future growth of global electric vehicles, creating another potentially enormous revenue stream to build shareholder value.
For the moment, you can buy a thousand shares of FRRSF for less than $100! As they release new numbers from their ongoing explorations…the value of those shares could soar into the thousands of dollars!
What to do now…
Get informed. Start your due diligence. You might even consider getting some money in play with Far Resources (OTC: FRRSF / CSE: FAT). As of this writing you can lock in a thousand shares for under $100. If you choose to pull the trigger on a buy, then keep in mind that despite the great promise, Far Resources should still be considered a high-risk investment that could lead to substantial, if not complete losses. Don't invest any more than you are willing to put at such risk.
However, with that risk comes the promise of exceptional rewards.
It is not uncommon for junior resource companies to explode out of obscurity yielding early shareholders enormous gains over their initial investments. These are wealth-building opportunities that can lead to life-changing wealth.
Now is the time to make you move.
At the very minimum, get your email address on the company's mailing list.
You can start right now by visiting the company's website and signing up for their announcements.
Also, contact your broker. Put FRRSF on your personal watch list. Stay tuned in and choose your opportunity. Enormous upside potential sits waiting for your action, but don't wait too long!
The much anticipated "Lithium Supercycle" is gaining traction right now. In the coming months investors will no doubt realize that demand for new lithium will far outstrip current production capacity and more importantly, current production cannot be effectively scaled up!
Whether constrained by environmental factors, political factors or competitive manipulations…automakers in particular will likely be forced into western Canada to meet their growing need for new, stable lithium supplies.
And when those buyers come knocking, you'll want to be at the door waiting!
A Closing Thought:
I first ran across the phrase "Lithium Supercycle" in an article written by Richard Mills and published online at mining.com.
In that article, Mills makes the following observation, my emphasis added:
"If we want a lithium-ion battery industry and electric vehicles built in North America we need lithium security of supply. No longer can we rely on the good graces of other countries, we need to develop an energy metals industry in North America – from mine to battery."[8]
I couldn't agree more, which is why I'm absolutely convinced that little-known companies like Far Resources (OTC: FRRSF / CSE: FAT) will become rising stars with the advent of North American lithium production. Recent history tells us that stunning wealth can be achieved by catching such energy companies early. Think of the millionaires that were born from the explosion in oil and gas production in Barnett Shale and Eagle Ford oilfields. As the stampede to electrically powered vehicles and renewable resources puts skyrocketing demand on lithium supplies, western Canada is likely to match or eclipse such resource bonanzas. Even a modest sum in play could lead to stunning gains. I hope that you take advantage of this once-in-a-lifetime opportunity!
For more information about Far Resources and to
sign up for the company's mailings, please visit our website.
Download the Corporate Presentation here.
[1] https://www.forbes.com/sites/sarwantsingh/2018/04/03/global-electric-vehicle-market-looks-to-fire-on-all-motors-in-2018/#14872cc52927
[2] https://www.ft.com/content/90d65356-4a9d-11e7-919a-1e14ce4af89b
[3] https://lithium-au.com/greenbushs/
[4] https://www.accesswire.com/535438/FarResourcesSecuresCAD2412MillionEquityFacilitywithNewYork-BasedAluminaPartners
[5] https://www.reuters.com/article/us-lithium-analysis-idUSTRE54O2CP20090525
[6] http://www.digitaljournal.com/news/world/chile-restricts-water-permits-in-lithium-rich-atacama-region/article/530657
[7] http://www.mining.com/web/lithium-supercycle/
[8] http://www.mining.com/web/lithium-supercycle/
This report is for information purposes only, and is neither a solicitation or recommendation to buy nor an offer to sell securities. TheBullReport.com is not-a-registered-investment-advisor. TheBullReport.com is not a broker-dealer. Information, opinions and analysis contained herein are based on sources believed to be reliable, but no representation, expressed or implied, is made as to its accuracy, completeness or correctness. The opinions contained herein reflect our current judgment and are subject to change without notice. TheBullReport.com accepts no liability for any losses arising from an investor's reliance on the use of this material. TheBullReport.com sometimes gets compensated up to one hundred and fifty thousand dollars per month for featuring particular stocks. See site disclaimer for complete compensation. TheBullReport.com and its affiliates or officers currently hold no shares of these stocks. TheBullReport.com and its affiliates or officers will purchase and sell shares of common stock of these stocks, in the open market at any time without notice. TheBullReport.com will not update its purchases and sales of these stocks in any future postings on TheBullReport.com's websites. Certain information included herein is forward-looking within the context of the Private Securities Litigation Reform Act of 1995, including, but not limited to, statements concerning manufacturing, marketing, growth, and expansion. The words "may", "would," "will," "expect," "estimate," "anticipate," "believe," "intend," " project," and similar expressions and variations thereof are intended to identify for ward-looking statements. Such forward- looking information involves important risks and uncertainties that could affect actual results and cause them to differ materially from expectations expressed herein. *TheBullReport.com does not set price targets on securities. Never invest into a stock discussed on this web site or in this email alert unless you can afford to lose your entire investment.