North America's largest hard rock lithium resource companies are taking their mining to the next level.
Lithium will likely power future transportation for decades to come. Its the best tech available for storing portable power for millions of new electric vehicles about to pour into global markets, setting the stage for a booming market in lithium mining, but that's just the start of it.
The end game is in batteries and the Chinese are moving aggressively to corner both global lithium supplies and production of lithium batteries.
Later in this article you'll learn how Chinese companies have been quietly securing positions in world lithium projects to ensure uninterrupted supply to their rapidly growing battery manufacturing operations. Now their current actions appear to target newly opened North American lithium production, putting domestic producers under the boot of their control.
With China moving hard to dominate world lithium resources, unlocking untapped Canadian lithium resources is fast becoming a strategic necessity particularly to U.S. and western auto manufacturing.
Over the next decade, the number of electric vehicles being produced globally will skyrocket. Since range and power will be the driving force behind future EV sales, the licensing revenue from battery and automobile manufacturers worldwide is likely to be stunning.
In April this year, Forbes reported:
"The past year has been marked by a flurry of announcements from major auto makers about their plans for the EV [electric vehicle] market. Should these plans fructify, it represents a mouthwatering potential of 400 models and estimated global sales of 25 million by 2025.
"Consider this. Porsche aims at making 50% of its cars electric by 2023. JLR has announced it will shift entirely towards electric and hybrid vehicles by 2020. General Motors, Toyota and Volvo have all declared a target of 1 million in EV sales by 2025. By 2030, Aston Martin expects that EVs will account for 25% of its sales, with the rest of its line up comprising hybrids. By 2025, BMW has stated it will offer 25 electrified vehicles, of which 12 will be fully electric. The Renault Nissan & Mitsubishi alliance intends to offer 12 new EVs by 2022."[1]
The fact is, every major auto manufacturer in the world today is gearing up now for electric vehicle production. Two things seem certain from this…
The world will need vastly more lithium than is being produced now.
The batteries used in electric vehicles must be able to go farther and stronger than ever before.
Within a decade, electric vehicles are projected to dominate new car production. Soon following, internal combustion engines will be outlawed to over half the world's population! By 2040, internal combustion engines will be illegal in many parts of the world.
Current world lithium supply lines cannot meet soaring demand projections. New sources must be brought into production fast. Without those new supplies, future EV automotive production growth would grind to a halt.
Financial Times and other experts report that
auto manufacturers are forecasting a looming global
lithium supply crisis.
They warn that global lithium deliveries
must grow 17-times current production levels
to meet pending world demand![2]
Focus on this one key point. The world must find and produce more lithium. Electric vehicles are the future. Governments are requiring it. Consumers are demanding it. It's already upon us and it cannot be stopped!
Auto manufacturers cannot be caught napping; they must plan and prepare for new lithium production now, which is why priority is placed on developing Canadian resources first.
Over the last few years, Manitoba's rich lithium hard rock resources have come into strong focus.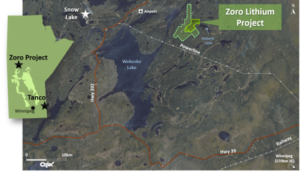 Recent drilling activity has produced exceptional assay results. In fact, newly announced assays from recent activity are comparable to Australia's Greenbush region, a region that has recently been reported to be producing 40% of the world's lithium supplies.[3]
Could Canada be next?
Chip samples taken during early exploration returned stunning results ranging from 1.35% to 6.35% lithium dioxide (Li-2O)
Subsequent drilling conducted primarily from 2017 to present day further confirmed the potential for substantial Li-2O deposits.
Lithium buyers, particularly in the United States, are watching carefully to see which companies prove up their reserves early. You can count on major players whose future depend on stable lithium supplies stepping in as eager bidders! They'll likely pay whatever it takes to secure years of stable, unrestricted lithium supplies.
For them it could be a matter of survival!
Nearly 20% (18 million) of all world vehicles are produced in North America.
Within a half-dozen years, four to five million of those vehicles will be electric, yet today, none of the lithium needed to power those vehicles is produced here!
Automakers are entirely dependent on foreign lithium supplies, largely controlled by the Chinese. This creates enormous incentive for tapping into abundant Manitoba, Canada lithium resources…and they need to get started now!
Western Canada is an ideal starting point. It hosts geologically similar "hard rock" lithium deposits that has propelled Australia to become the world leader in lithium production.
In fact, Australia now accounts for 40% of world lithium production. With similar hard rock deposits, Western Canada could quickly rise to challenge that. As world demand for lithium continues to soar, lithium buyers should be lining up to secure their access to Canadian production.
The enormity of this opportunity should not be underestimated.
There seems to be no question that accelerating demand will consume all new lithium production brought online for the foreseeable future. And as discussed earlier in this report, current lithium producers are unlikely meet new global demand!
China certainly won't pour its lithium into world markets. Australia is largely controlled by the Chinese, so it can't be expected to ramp up for the world. South American brine resources take at least 18 months to ramp up and more South American governments are tightly limiting the output of their brine resources. For good reason…
Please make note of this…
It is not only key to understanding why South American brine fields will not solve the world's lithium supply crisis…it is key to understanding why Canadian resources could be so essential to future lithium supply needs!
Even though South America, Chile in particular, holds the world's largest deposits of lithium…that lithium cannot be extracted more than it is already.
To begin with, ramping up production is a slow process.
Analyst David Begleiter, of Deutsche Bank North America, reports that,
"…ramping up production [in brine ponds] might be slow because it takes up to 18 months for water to evaporate in brine ponds allowing the lithium to form."[4]
But here's the real problem.
Even if the brine could be dried overnight, the water to lift it to surface is fast disappearing!
While South America is touted for its enormous lithium resources, it takes massive quantities of water to extract that lithium from ground resources…and the aquifers that supply that water are drying up fast!
A 50-year drought could shut down all new lithium production in South America!
Salar de Atacama is the largest salt flat in Chile, home of the purest lithium deposits on the planet. In your research you will likely learn that the lithium deposits in this location could feed most if not all future growth in lithium demand. Trouble is, all that extra lithium cannot be mined!
Salar de Atacama is one of the driest places on the planet, now in its 50th year of what appears to be a permanent drought. Lithium production can't be ramped up significantly because it consumes such massive quantities of water. The situation has become so dire that the Chilean government has clamped down on further unrestricted water use!
"In a press release published August 23, 2018, Chile's General Directorate of Water (DGA) announced they will limit water use rights in the southern region of the Atacama desert because the current number of permits are above sustainable levels.
"The DGA plans on creating a water reservoir for human consumption to ensure that water remains available in the Salar de Atacama where lithium giants, SQM and Albemarle operate."[5] [emphasis added]
So, there you have it.
China dominates lithium supplies in its homeland and Australia. They're not likely to ship lithium to competitors! And you won't get more lithium out of South America due to lack of water and rigid government restrictions.
This exposes a huge problem in meeting future lithium supply demand!
These three locations, China, Australia and South America already account for over 95% of the world's current supply of lithium!
With forecasts calling for a 17-fold increase in lithium production, where's all that new lithium going to come from?
Answer: North America!
Over the next few years, we are all very likely to see a massive boom in North American lithium production. More specifically, thanks to how quickly mining operations can be brought to speed…that massive boom is likely to focus first on western Canada and the lithium rich deposits in Manitoba.
For western automakers focused on the future in electric vehicles, this could be a priority for survival! Elon Musk sees it coming…
Tesla is making North American lithium purchases a "priority" for the future.
To reach a near-term objective for producing 500,000 Tesla vehicles annually, the company will have to secure 50 million pounds of lithium carbonate. Musk knows he is unlikely to get that from the existing lithium production pipeline. This is why he has emphasized the vital necessity and promise to source North American lithium.[6]
My summary…and a prediction…
If you haven't already, take these pending lithium market forecasts seriously. It will likely produce some of the fastest growing, most lucrative stock buys you can make in your lifetime.
The explosive world demand for stable (unhindered by government and weather) new lithium supplies will surely drive a massive lithium production boom into western Canada.
You can get ahead of this and perhaps make some serious profits by getting started immediately. As you begin your research and due diligence…keep these four facts in mind:
Global demand for lithium is on track to grow 17-fold into the next decade.
There are four regions in the world where lithium can be presently mined in useful quantities; Australia, South America, China and North America.
Of these four, North America is the only region not currently dominated by Chinese interests or constrained by environmental limitations and government regulations.
With North America lithium deposits, Canadian resources can be brought to production in as little as two years. That's significantly faster than the ten years it can take to get U.S. lithium mines up and running.
The much anticipated "Lithium Supercycle" is gaining traction right now. In the coming months investors will no doubt realize that demand for new lithium will far outstrip current production capacity and more importantly, current production cannot be effectively scaled up!
Whether constrained by environmental factors, political factors or competitive manipulations…automakers in particular will likely be forced into western Canada to meet their growing need for new, stable lithium supplies.
Sign up for the email list to make sure you get announcements in time to act. Announcements could provide you with valuable information well ahead of the crowd, setting you up for substantial gains.
[1] https://www.forbes.com/sites/sarwantsingh/2018/04/03/global-electric-vehicle-market-looks-to-fire-on-all-motors-in-2018/#14872cc52927
[2] https://www.ft.com/content/90d65356-4a9d-11e7-919a-1e14ce4af89b
[3] https://lithium-au.com/greenbushs/
[4] https://www.reuters.com/article/us-lithium-analysis-idUSTRE54O2CP20090525
[5] http://www.digitaljournal.com/news/world/chile-restricts-water-permits-in-lithium-rich-atacama-region/article/530657
[6] http://www.mining.com/web/lithium-supercycle/
*Past performance is not a predictor of future results. All investing involves risk of loss and individual investments may vary. The examples provided may not be representative of typical results. Your capital is at risk when you invest – you can lose some or all of your money. Never risk more than you can afford to lose.By submitting your information you agree to the terms of our Privacy Policy • Cancel Newsletter Any Time.This is a FREE service from Vanadium Report. Signing up for our FREE daily e-letter also entitles you to receive this report. We will NOT share your email address with anyone.