That creates a breathtaking investment opportunity in a groundbreaking new fintech.  Marble Financial (OTC: MRBLF,   CSE: MRBL) intends to return credit-stressed consumers to financial normalcy through their proprietary technology.
This is the start of a next-gen financial technology company (fintech).
Recent U.S. and Canadian acquisitions ensure that Marble Financial remains on track to play a dominant role serving a massive $15.6 trillion consumer credit marketplace.
This has already started in Canada and the stage is being set for a potential move into the U.S. 
Special Report to the Opportunity Seeking Investor:
The Canadian consumer credit market provides the ideal starting point for what could grow to serve a massive $15.6 trillion consumer credit marketplace.
Much of the world is totally unaware that North Americans now carry the highest consumer debt load of any time in history. Borrowing has skyrocketed to the point where, for example, the average Canadian carries debt balances 178% of income. To put that in perspective…consumer debt in Canada has doubled in a single generation…and continues to grow at around 9% annually!
This situation opened a massive business opportunity
to Marble Financial that could trigger explosive growth
for the company and its shareholders!
For years, North American banks have doled out trillions to credit hungry consumers. It has been a take-it-or-leave-it scenario for consumers as bankers raked in billions through a near monopolistic control of individual creditworthiness.
Borrowers have had virtually no control over their financial destinies…and that's been especially true for borrowers who found themselves tossed in waters too deep to manage. Lenders once eager to hand them loans now lament that "high debt levels may leave North American families more vulnerable to large economic shocks" such as a job loss or financial setback outside their control.[1]
And what are lenders doing to help keep credit-challenged customers afloat? They're not throwing lifelines; they're tying rocks to struggling customers' feet letting them sink and drown!
In Canada this is exactly how the credit game works and it's all played from arcane rules refereed by two credit-reporting agencies; Trans Union and Equifax. These are the "go to" information brokers that lenders use to manipulate every Canadian's financial buoyancy. Most borrowers have no clue how this system works other than they either row the boat or get tossed overboard!
Now, the rules are being reversed by Marble Financial (OTC: MRBLF, CSE: MRBL) for the benefit of the consumer. Instead of being subjugated by banking, Canadian consumers can now take charge of their creditworthiness through Marble Financial's unique, credit management solutions.
An opportunity to act on swiftly!
If you've been watching, you've already noticed that start-up fintech companies have been among the very best, most profitable equities on the market today.
In just a few short years, these dramatically different financial services companies have upended traditional banking. Their unique technologies have soared in demand…and many early investors made fortunes.
The track records are stunning and most have been funded by massive inflows of cash from well-connected financiers.
In a February 2019 article, Forbes magazine reported that,
"…overall investment in fintech surged in 2018, hitting $55 billion worldwide, double the year before, Accenture reports. Big fintechs are getting bigger—19 of the 2019 Fintech 50 are valued at $1 billion or more."[2] [Emphasis added.]
Lending and payments categories have been leaders in fintech growth. Unfortunately for most individual investors, the door to entry level has been closed. Big investors gobble up early positions in anticipation of a killing made through an IPO.
One exception to the big money funding has been the publicly trading lender, GoEasy. This alternative financial company based in Mississauga, Ontario operates two lending platforms, "EasyFinancial", which offers high-interest loans to subprime borrowers and "EasyHome", which finances furniture and durable goods on a rent-to-own basis.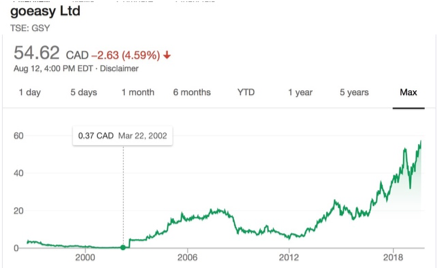 Had you been lucky enough to grab GoEasy shares in mid-2002, you would have been loading up around 40¢ a share. Today, those trade around $54/share, a breathtaking leap in value 135-times the original!
Even if you only got in recently, GoEasy shares have nearly quadrupled in the last three years, rocketing from around $15.50/share to current $54+ levels.
A quick glance at the two businesses, Marble and GoEasy suggests a lot of overlap serving credit-stressed markets…but there's a big difference that puts Marble (OTC: MRBLF, CSE: MRBL) well in front.
While GoEasy simply opens its vaults to people with bad payment histories, Marble targets its business to people who suffer an unexpected life event that damages their credit scores. Marble customers are people who once had good payment histories…and most important…want to get back to the good credit they once enjoyed.
The difference is huge.
Marble's proprietary algorithms for qualifying its customers allows Marble to carry subprime interest rates with responsible customers wanting to improve their circumstances. Company management anticipates dramatically lower default rates that typically plague other subprime lenders.
The end result is that Marble intends to build a loan book that can generate 18% to 25% annual interest revenue, but with far fewer subprime bad debt write-offs!
What's more, consumers appear eager to participate because Marble doesn't just extend the financing they want, Marble assists them in regaining and holding on to their once favorable credit scores.
Marble provides three distinctly different platforms for consumers to solidify and actively improve their creditworthiness. These are:
Lifeline: The flagship Marble service, Lifeline provides credit-challenged Canadians (now accounting for about $1 trillion in over-extended debt) a rapid recovery plan for restoring creditworthiness.
Score Up: Dives deep into the arcane rules of credit reporting agencies to proactively manage a client's credit data, optimize credit scores, and draw the best possible picture of a client's creditworthiness.
Credit Meds: Employs proprietary diagnostic tools to assess and restore a consumer's financial wellness as it is uniquely viewed by credit-reporting agencies and bankers.
Marble believes these three unique services could revolutionize consumer credit rebuilding for future lending in North America. Nobody else is doing anything like this, which could drive enormous growth over the coming months especially as consumers increasingly move away from traditional banking into to non-traditional fintech (financial technology) services. Fintechs have been churning out fortunes for early investors and Marble could be one of the biggest and fastest growing yet.
A game changer in financial technology and electronic banking
Fintechs are soaring and Marble (OTC: MRBLF,  CSE: MRBL) is unique in that space…
Fintech companies have radically and permanently altered the banking and finance industry.  The current growth trajectory in fintech exposes dramatic consumer moves to non-traditional and online banking.
Some sectors of this broad market have logged explosive growth, particularly in North America where consumers are rapidly adopting fintech opportunities.
The entire industry is driving enormous wealth into investors' portfolios!
Forbes reported earlier this year that serious investment money is pouring into all sectors of fintech and the fastest growth has been in payments companies. From 2017 to 2018[3] investors pushed industry growth by 50%, committing $12 billion in array of companies serving highly specialized financial services niches. Few of those niches match the scope of Marble Financials' evolving service portfolio.
A major Canadian Accounting firm, MNP LLP, reported that nearly half of Canadians are on the brink of financial insolvency; struggling to make ends meet at month's end.
"…nearly half (48%) of Canadians say they are $200 or less each month away from financial insolvency."[4] –MNP Consumer Debt Index, Canada; April, 2019
That places Marble on its own with a nearly $1 trillion market that no one else is touching! As this gains traction…and it's gaining fast…you're presented with an ideal entry to a ground-floor shareholder position.
Canadians are being pinched hard and it only takes one life setback…a divorce, job loss, illness, etc. to send a stressed household into a credit crisis. Circumstances are made worse as the Canadian Central Bank tightens lending and raises qualifying requirements for home mortgages.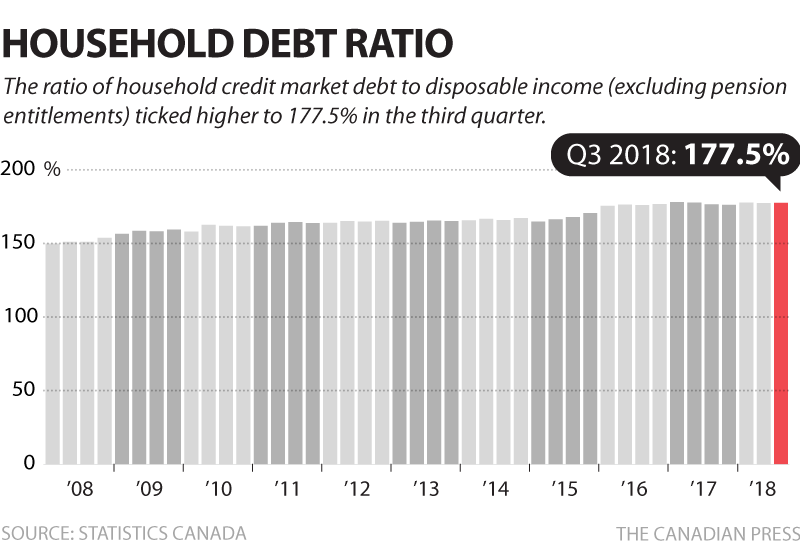 Enter the "Consumer Proposal"…a cure that can be as bad as the disease!
Faced with irresolvable debts, the credit-stressed consumer has little choice but to turn to a "Consumer Proposal". In a nutshell, a Consumer Proposal is a unique Canadian program that allows a consumer to restructure debt and avoid outright bankruptcy.
It can be a life saver, but it comes with a huge disadvantage. A Consumer Proposal kicks off eight years of financial hell! Right out of the blocks the consumer gets slammed with a terrible credit score, virtually no access to future lending, and no prospect for improving creditworthiness for half a decade.
Keep in mind that many Canadians turn to a Consumer Proposal through no fault of their own. They were responsible and creditworthy citizens with excellent credit scores, but a setback in life left them unable to meet their obligations. A Consumer Proposal sets up a payoff plan that can extend up to five years. But it also hits their credit report hard! Their score immediately plummets and remains that way for up to five years!
Except for high credit payday loans that charge stratospheric interest rates, their ability to finance anything simply vanishes. Nothing they do changes that. Even on-time payments to satisfy the Proposal do nothing to improve their score.
Car loans, credit cards, 1st and/or 2nd mortgages are virtually non-existent through traditional lenders. Imagine the repercussions if it happened to you. There are several underbanks, PayDay lenders or "lenders of last resort" that would make credit available to you…that is if you can if you can stomach the predatory interest rates and fees they charge! Perhaps worse, a poor credit record affects your ability to secure a place to live or even land a new job.
And the pain does not end at the end! Even after the final payment is made, the history of a Consumer Proposal doesn't clear your credit report. For an additional three years, your score remains dinged by the Proposal history and the you continue to live like a second-class citizen. It's not easy. In total it can take nearly a decade to recover.
The obvious question is, why would anyone voluntarily submit to this? The answer is simple. As opposed to bankruptcy where virtually all assets are subject to liquidation or foreclosure, a Consumer Proposal prevents debtors from repossessing property or liquidating a home to satisfy the debt. That certainly beats bankruptcy!
Marble Financial (OTC: MRBLF, CSE: MRBL) offers a fast way out of a Consumer Proposal…and Canadians are loving it!
Marble Financial offers a way to dramatically cut the time it takes to achieve financial normalcy. It starts when the consumer applies to Marble for a loan to pay off their Consumer Proposal. Once approved, Marble Financial pays off the Consumer Proposal indebtedness and the consumer begins repaying that amount to Marble instead. This immediately begins rebuilding a favorable credit history and in three years the Consumer Proposal drops off the credit history. Without Marble, it would take up to five years for that rebuilding process to begin and up to eight years for the credit history to clear!
The key is that Marble looks to serve those who have a solid credit history up to the point that they were forced to take the Consumer Proposal route. As part of its proprietary technology, Marble identifies the low-risk consumers that get wrongly labeled as "high-risk" due to participation in a Consumer Proposal.
Here's how Marble Financial lifts them out of their eight-year nightmare.
Not everyone facing financial hardship is a slacker. Most are hard-working, responsible people who through no fault of their own got hammered by an unexpected life event.
The loss of a job or an income producing spouse. A serious illness. A significant casualty loss not covered by insurance. Any number of events can trigger irreversible setbacks.
For those responsible enough to work their way to the quickest possible financial recovery, a Consumer Proposal paid off by Marble Financial (OTC: MRBLF, CSE: MRBL) can be ideal. It accelerates their recovery, quickly rebuilds creditworthiness, and wipes out the public record of a Proposal in as little as three years. Here's how Marble can quickly erase the stigma of a Consumer Proposal and get the consumer back on track.
Step one: When the consumer passes Marble's stringent credit and life review, they're cleared for a 100% payoff of the consumer proposal balance due.
Step two: Marble approves a loan and immediately pays off the Consumer Proposal balance. The proposal is then terminated and payments to the Consumer Proposal agent cease. Instead, the consumer begins paying down the loan from Marble.
Step three: Unlike payments into the proposal, payments on the Marble loan immediately begin favorably impacting the credit score! The credit score starts climbing as month-by-month, the consumer continues to meet their obligations. The ongoing payment record accrues to the growth of a favorable credit status.
Of course, Marble Financial collects interest on the money loaned and repaid, and the consumers happily pay it. Consumers reel in so many benefits from choosing a Proposal over bankruptcy that the fees collected by Marble are inconsequential in comparison. And those fees accrue directly to shareholder value. Marble derives up to $250,000 revenue for every million dollars in its loan balance sheet.
It may be hard to wrap your head around the enormity of the Marble Financial consumer proposal escape plan. And it truly is an escape plan with nothing else like it offered anywhere in Canada.
Add to that the proactive, consumer-focused credit management tools in Marble's "Score Up" and "Credit Meds" and you have the makings of a total financial services game-changer.
Marble Financial is an early-stage company that has yet to catch the eye of the market's hunger for fintech solutions. Shares can still be had in the 15¢ range. You'd do well to begin looking into Marble without delay.
With a $1 trillion market to draw upon, Marble Financial could quickly become one of the fastest growth FinTech's on Wall Street. Early investors stand to reap significant gains as Marble grows its book.
Here's a recap of the key points driving Marble Financials' (OTC: MRBLF,   CSE: MRBL) business opportunities:
Canadians have gone chin deep in consumer debt, now over $2 trillion! That's a record-setting 178% of income and that debt bubble is growing 9% annually!
Nearly half of all Canadian consumers live on the edge of financial insolvency unable to absorb even a minor setback in their financial affairs.
Canada's unique "Consumer Proposal" rules allow financially troubled Canadians to restructure their debt, but at the cost of years with terrible credit scores and virtually no chance to improve their creditworthiness.
Marble Financial provides a way out of the of the Consumer Proposal trap for responsible consumers and begins rebuilding their credit and reputation almost immediately.
Marble Financials' unique program can put a client back on his/her feet in as little as three years compared to eight years or longer through the Consumer Proposal route.
The consumer's creditworthiness has always been tightly controlled by lenders and credit reporting agencies. Marble Financial shifts that control to the consumer in ways that nobody else has attempted.
Nearly $1 trillion in Canadian consumer debt is in jeopardy of default, creating an enormous opportunity for Marble Financial with no known competition!
Marble Financial has already gained traction in this market with a solid $10 million cumulative loan book and growing client base. Since going public earlier this year (March 20, 2019), its funded loans have doubled month over month. But even with that solid start, Marble simply has not caught the market's eye; it still trades in a penny stock range.
That could change rapidly as the company reports targeting a three-year growth trajectory to $100 million loan book and revenue projections that could range from $18 to $25 million annually. Numbers like these may be more than enough to catch new investor interest! What's more, a $100 million loan book is a mere fraction of Marble's long-term potential.
If only one out of a thousand Canadians now burdened with nearly $1 trillion of at-risk consumer debt turn to Marble Financial for a financial lifeline, that puts a $1 billion in Marble's loan book capable of generating $180 to $250 million in annual revenue!
Under those circumstances, Marble's future share price could be a mere fraction of what it trades at today!
What to do next…
This is a rapidly developing story that deserves your immediate attention. An excellent starting point is the Marble Financial (OTC: MRBLF, CSE: MRBL) website.
While on the site be sure to go to the "Investors" page to register your email address for all future news that the company releases.
To learn more about the growing Canadian consumer credit market crisis and the drawbacks of the "Consumer Proposal" that make the Marble Financial solution so enticing, start with these links:
https://www.fraserinstitute.org/sites/default/files/household-debt-and-government-debt.pdf
https://globalnews.ca/news/4147046/canadian-debt-interest-rates-poll/
https://mnpdebt.ca/en/lp/debt-index
https://bankruptcycanada.com/consumer-proposals/how-the-consumer-proposal-voting-process-works/
To learn more about the enormous sums of investor money now pouring into fintech sectors, visit:
https://www.forbes.com/sites/jeffkauflin/2019/02/04/top-payment-fintech-companies/#20ec794176c9
[1] Household Debt and Government Debt in Canada • Di Matteo •
[2] https://www.forbes.com/fintech/2019/#3ef4204a2b4c
[3] https://www.forbes.com/sites/jeffkauflin/2019/02/04/top-payment-fintech-companies/#20ec794176c9
[4] https://globalnews.ca/news/4147046/canadian-debt-interest-rates-poll/
https://mnpdebt.ca/en/lp/debt-index
This report is for information purposes only, and is neither a solicitation or recommendation to buy nor an offer to sell securities. TheBullReport.com is not-a-registered-investment-advisor. TheBullReport.com is not a broker-dealer. Information, opinions and analysis contained herein are based on sources believed to be reliable, but no representation, expressed or implied, is made as to its accuracy, completeness or correctness. The opinions contained herein reflect our current judgment and are subject to change without notice. TheBullReport.com accepts no liability for any losses arising from an investor's reliance on the use of this material. TheBullReport.com sometimes gets compensated up to one hundred and fifty thousand dollars per month for featuring particular stocks. See site disclaimer for complete compensation. TheBullReport.com and its affiliates or officers currently hold no shares of these stocks. TheBullReport.com and its affiliates or officers will purchase and sell shares of common stock of these stocks, in the open market at any time without notice. TheBullReport.com will not update its purchases and sales of these stocks in any future postings on TheBullReport.com's websites. Certain information included herein is forward-looking within the context of the Private Securities Litigation Reform Act of 1995, including, but not limited to, statements concerning manufacturing, marketing, growth, and expansion. The words "may", "would," "will," "expect," "estimate," "anticipate," "believe," "intend," " project," and similar expressions and variations thereof are intended to identify for ward-looking statements. Such forward- looking information involves important risks and uncertainties that could affect actual results and cause them to differ materially from expectations expressed herein. *TheBullReport.com does not set price targets on securities. Never invest into a stock discussed on this web site or in this email alert unless you can afford to lose your entire investment.